Welcome, New Updates are here for Febuary 24, 2006!
Check back soon will be updating this site soon, sick of seeing this site look half ass, and unfinished like my car.
Well I have been away from my car almost 2 years. Things are starting back up again.After a couple failed attempts to revive the car. I feel I have made my final decision as to what to put under the hood.Sorry L98 guys but I feel the newer LSX motors have a much better place in my car HP, and price wise. Currently looking at this vendors interesting array of complete motors: www.turnkeyengine.com . Im steering towards the LS6 500hp offering. Check them out.
Pic of the Day!-------------------------->
Taken Feb 18nd,my new guage panel from SS Billet Custom In Las Vegas!





Take my newest Poll!


ATTENTION VISITORS
Please check out my entire site,sign my guestbook,and drop me a line telling me what you like and what you dont.Feedback is appriciated.
Questions? Comments?Feel free to email me.

My Camaro pics!

For pictures of my camaro+ pics of friends cars and motor pics, click on the following link:

Photopage@Procharged.com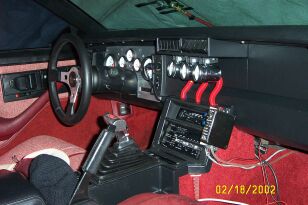 Attention:Some new changes in my personal life!
Well,I keep it short,I got engaged on May 21 ,2001.New news,I have set a date of September 13,2003 as the big day.



Got my gauge panel ordered a custom wiring harness for it to make installation a snap.Got the SMC alcohol injection in my car now,check out my other gauges in my cockpit and the SMC controller

Whats New @Procharged.com